Neva Mae Wussow
1923-2017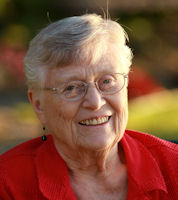 Neva Mae (Schoenefeld) Wussow born December 27, 1923, in Wentworth, SD, passed to heaven Thursday, May 4, at the age of 93 ½.

She was confirmed at St Peters Lutheran church in Wentworth and graduated from Wentworth High School. On Valentine's Day, 1944, Neva married John Wussow; they enjoyed 52 years together - especially the years lived on Lake Darling with its blue waters and beautiful sunsets.

Neva always saw the best in everyone and made the best of every situation. She truly lived her life with authenticity and integrity. Her smiling face from behind the counter at "Hamburger Heaven" and her warm greetings to day care children and their parents, made her loved beyond her family.

Neva was preceded in death by her parents, William and Anna Schoenefeld; loving husband, John Wussow; son James Wussow and first grandchild John Michael Olsen; siblings, William Schoenefeld and Lorraine Dumke.

Loved and already missed by living children, Karen (David) Oakland, Kathleen (David) Janke, Curtis (Jan) Wussow and Arlen (Carla) Wussow; brother Lloyd (Norma) Schoenefeld; sister, Arla (Dick) Elverud; eleven grandchildren, sixteen great grandchildren and one great, great grandson; plus, numerous nieces, nephews, cousins and many former day care children - all of whom called her "Grandma Neva".

She lived her Christian faith, practicing "Love your neighbor" generously and joyfully, and warmly demonstrated "Let the little children come to me".

A Celebration of Life services will be Saturday, June 24, 2017, at Zion Lutheran Church in Alexandria, MN at 11:00 AM, where Neva was a long time member.

Visitation will be at 9:30 AM at the church the day of the service.

Memorials are preferred to Zion Lutheran School, Lutheran Social Services, or a mission dear to your heart.

Arrangements are with the Anderson Funeral Home, Alexandria, MN.