Norm Johns
1922-2018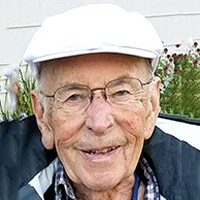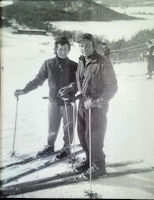 Norm, 2017 Norm & Dorothy, 1953

Johns, Norman Age 96, of Fridley, died April 17th at home with daughters at his side.

Survived by Paula (Greg), Barb (Chris), beloved grandson Andrew, extended family, Badland Boys and ULLR's.

Preceded in death by wife, Dorothy and sister, Marian.

WWII Staff Sargent in the Army Air Corps (B24) as Tail Gunner, flew 30 combat missions over Germany with 491st Bomber Group. Post war attended Winona State College, graduated from Mpls School of Art and Design. Retired from Honeywell after 33 years in Aerospace Division as design engineer. Long time member of St Phillips Church, he designed and produced their logo and many of the church's alter artifacts. In later life he took more art classes and produced beautiful pottery, bronze artwork, and stone carvings.

After Norm's wife passed, this lifelong skier started attending ULLR events. He enjoyed many of their activities: skiing both local resorts and Aspen, bicycling trips, golf outings and camping excursions. Among his fondest memories were the many years of co-coordinating the logistics and festivities for "Weekend at Jan's", at Jan Hotvedt's for summer time fun in Iowa. "Norm and his harem" was a phrase that was born and grew during his time with his ULLR friends.

"Stormin Norman's" Celebration of Life will be held later.

Gratitude to Fairview Hospice these past 9 months, especially Mary and Joan, and team members Patricia, David and Jewel.


ULLRnet announcement, April 26, 2018:

Norm Johns, age 96, a long time ULLR member, passed away April 17.

Norm is survived by his daughters Paula Johns and Barb (Chris) Reynolds, and grandson Andrew.

At his request there will not be a funeral but a memorial gathering will be scheduled at a later date