ULLR Foundation
Memorial Gifts
---
Wally Krake
$1,880

-Donors-
(listed alphbetically)
Joanne Archerd and Lyle Skandel
Colleen Barden
Noreen and Gary Berg
Jean Berry
Carol Burgess
Janice Butler
Janet Cady
David and Teresa Carlson
Barbara Carpenter
Laurie and Joe Coursolle
Erl and Diane Erlandson
Joyce Crozier and Bill Kansas
Lolly and Dick Dahlen
Lauren and Edith Davies
Gary and Fran DeWell
Margo Dinneen
Mary Elsholtz
Jeanette Enrico
Jeff Fischer and Nancy Harman
Damaris Frank
Mary Ellen Gabel
Betty Greenlee
Micheal and Jodi Guckenberg
William Handsaker
Mary Holisak
Karen Holmquist
Eugene and Lori Jasper
Norman Johns
John Karpinski
Gwen Kline and Tom Larkin
Robert and Marcia Knock
Barbara Kolbe
Shelly Larson
Vickie Lee
Frank and Katherine Magadance
Charlotte Navratil and Alan Moore
Mike and Mimi Moss
Jean Nederostek
John Nelson and Jean Richgels
Edmund Nightingale
Dave and Karen Oakland
Jeanne Orr
Kathryn Potter
Joan Roe
Marvin Rohlf
Sigrud Ruhland
Don and Diane Salmela
Lavonne Sandberg
Joe and Maryann Schwebel
Sandra Shearer
Kathy Shroyer
Kathleen Sommers
William Spencer
David and Mary Stacken
Janet Staples
John Stiefel and Patricia Fitzgerald
Jerry and Janice Swanberg
John Vogt
Richard & Janine Zehring
Sonja Zenk

Krake , Walter Forest
1940-2009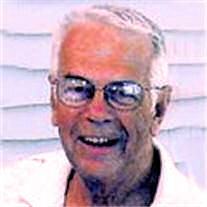 Krake, Walter Forest, Jr. age 69, of Mound, MN, passed away suddenly on April 17 surrounded by family.

Beloved husband and, father, grandfather, brother and friend.

Preceded in death by parents, Walter and Harriet and cousin, Linton Levin.

Survived by wife, Joyce; children, Bill (Jeanne), Sarah Lynn, and Steve (Sarah Jane) Krake; grandchildren, Madeline, Laura, Ashley, Graham, Lauren and Cameron; stepchildren, Lee (Tom) Cherne, Scott (Robyn) Ingalls and Amy (Jim Tonjum) Ingalls; seven step-grandchildren; brothers, Jim (Zig) and Don (Pam) Krake; niece, Liz (Keith) Benson; and nephews, Mike (Clair) and Brad Krake; mother-in-law, Ardelle Bryntesen; many hunting, golfing and fishing buddies and his friends in the Ullr Ski Club.

Wally was born in Minneapolis, graduated from St. Louis Park High School. He earned a degree in Electrical Engineering and an MBA from the University of Minnesota. He enjoyed 15 years of retirement pursuing his many interests among them: living and boating on Lake Minnetonka, serving as skipper on the historic steamboat Minnehaha and traveling to many corners of the world.

Memorials suggested to the Museum of Lake Minnetonka, Lake Minnetonka Association (Milfoil eradication on Lake Mtka) and the Ullr Foundation (ski equipment for handicapped skiers).

Rest in peace you wonderful man - you will be forever missed and fondly remembered.

A celebration of Wally's life will be held on Tuesday, April 21 at 11 AM with a gathering of family and friends one hour prior to the service at: Washburn-McReavy Edina Chapel, 952-920-3996, West 50th St. & Hwy 100.


Published in the Star Tribune April 18, 2009
http://www.startribune.com/obituaries/detail/11928627/?fullname=krake-,-walter-forest
http://www.washburn-mcreavy.com/obituaries/Walter-Krake-126377160/#!/Obituary

---
Updated 09/26/2017