Seals, Mary Virginia "Ginny"
1928-2018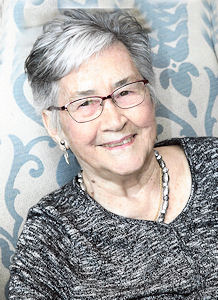 Age 89 of West St. Paul, MN.

Passed away peacefully at home, April 13, 2018 surrounded by her loving family.

She is preceded in death by her devoted husband, Sheriff Russell Seals, Jr.; parents Paul and Samantha Vaughn; and sister Glenna.

Ginny was born August 23, 1928 and raised in East St. Louis, Illinois. She had a long career as a legal secretary in Nebraska City, Nebraska and also assisted her husband in his sheriff's duties. A year after her husband's death in 1982, Ginny moved to St. Paul to be closer to her children. She then worked as assistant to the president of Commercial State Bank in St. Paul for many years.

Ginny was a devoted wife, mother, grandmother and great grandmother. Her strength, feisty spirit, and deep faith lives on in those who will forever love and remember her: children Randy (Linda) Seals, Jeri (Gregg) Weigand, Joyce (Patrick) Roddy and John (Pam) Seals; grandchildren Jason (Lori) Seals, Kallie (Misha) Orlova, Jared (Kristi) Roddy, Karissa (Adam) Drew, Erin Roddy, Logan (Katie) Roddy, Kara Weigand and Piper Seals; great grandchildren George, Noah, Meadow, Nadeen, Veronika, Amelia, Sullivan, Lyubov, Michael "Frankie", many nieces, and a nephew.

Ginny leaves behind her loving companion, Jim Stickler, who provided much joy to her for almost 24 years. The special bond they shared gave her great happiness and she and her family are thankful for his presence in her and their lives. She will also be missed by a host of longtime friends.

A very special thanks to Jodi at Health Partners Hospice and the wonderful staff of the Sanctuary in West St. Paul for all of their devotion and attention to Mom.

Visitation will be held on Tuesday, April 17th at 10:00 a.m. prior to the Memorial Service at 11:00 a.m., First Presbyterian Church, 535 20th Avenue North, South St. Paul, MN 55075. Lunch will follow the service at the church.

Memorials preferred to the ULLR Foundation or Feed My Starving Children. www.robertsfuneralandcremation.com

Cards and memorials are much appreciated by Jim Stickler, and sent to him at 6908 Inverness Trail, Inver Grove Heights, MN 55077.