Dinneen, Dick - (Richard J.)
1927-2004, Age 76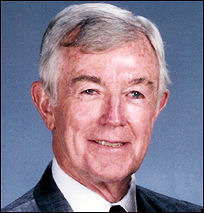 A brilliant, kind, gentle man slipped away on 4/12/04 to continue his adventures in Heaven. On 3/8 while skiing in CO he was injured by a snowboarder & never recovered from added compications which developed. Noone loved to ski, golf, bike, read, run, swim, trek, cook, volunteer, hunt, sing, play softball more than Dick!

Born 6/9/27 to John & Catherine, by age 6 he knew farming in New Richland MN wasn't for him & he left graduation day to serve Navy on WWII destroyer USS HANK. Dick retired very well respected as Director of Right of Way & Surveys for MN Dept. of Transportation '93 after 42+ yrs. Both Dick & his wife Margo were very active in their church & shared a rock solid faith that was the absolute core of their marriage. Every single minute they shared exploring 6 continents together was a priceless gift from God!

He is survived by: wife Margo; children all in the Twin Cities: Mike, Kate, Tim, Laurie (Shari), & Pat (Liza), Mary (Chris) Haugen, Sharon Margiotta; wonderful grandkids Shannon, Sean, Nick, Mary, Ashley, Samantha, Tony, Michael, Meghan, Steven; younger siblings Dean (Mary), Keith, Sheila (Art) Hopp; in-laws: Arlene, Kent (Cheri) Holen. Also left behind are his 1st wife Marty; many nieces, nephews, cousins; & a b'zillion friends from New Richland, the HANK, MnDOT, Colonial Church, ULLR Ski Club, Cursillo, Klobuchar Adventure Club.

Services include Fort Snelling Assembly #2 honor guard salute 1:30PM Friday.

Visitation 5-8PM Friday at WASHBURN-MCREAVY EDINA CHAPEL, W. 50th St. & Hwy. 100 at Vernon Ave. in Edina. And COLONIAL CHURCH OF EDINA Celebration of Life, 3PM Saturday, with visitation 1 hr before at 6200 Colonial Way, Edina.

In lieu of flowers, memorials preferred. Washburn-McReavy Edina Chapel 952-920-3396.