Richard M. "Dick" Brown
October 18, 1935 - May 19, 2021 (age 85)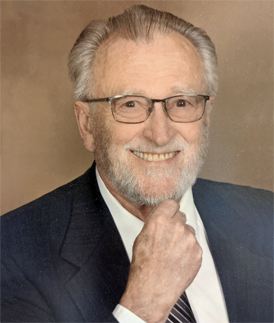 Richard (Dick) M. Brown (Evert), Age 85, loving Husband, Father and Grandfather peacefully passed away at home, surrounded by the love of his family on May 19, 2021. Dick was born in Luverne, MN on October 18, 1935, and was predeceased by his Mother, Esther Martin Brown; Father, Dr. Charles T. Brown; Step Father, Elmer Kuehl; Daughter, Susan and his Brother Charles.

Dick will be deeply missed by his wife of 22 years, Dianne Evert, his children Marty Brown, Marcia (Greg) Leadholm, Monica (Joe) Norton and Paul (Nanci) Brown, their Mother, Jan Brown and Dick's brother Steve (Jane) Brown. He is also survived by his bonus children; Donna (Nick) Luciano, Denise (Mike) Bartz and David (Tati) Evert and his grandchildren; Rachel, Megan and Jack Leadholm, Jennifer and Kyle Brown, Marcos and Marina Llanas, Julia and Nate Luciano, Diego and Dante Evert and many dear relatives and friends.

In 1959, Dick graduated with degrees in Mechanical Engineering and Business Administration from the University of Minnesota where he was an active member of the SAE fraternity and the Army ROTC.

Dick served in the U.S. Army both active and reserve until 1975 retiring as a Lieutenant Colonel. In 1961 he began his business career at Control Data Corp accepting a 3½ year international assignment and moving his family to Iran. He managed a project in Tehran creating two high level vocational schools and teaching computer technology for the Iranian Ministry of Education. Dick loved working so much, he failed at retirement three times.

He also loved skiing in the Rockies and bicycling all over the Twin Cities. He greatly enjoyed Orchestra Hall and traveling all over the world with family. His favorite trips and cruises included the South Pacific, Russia, Galapagos Islands, Machu Picchu, Africa, Europe, the Caribbean, South America and the Middle East. His adventures culminated in a once in a lifetime trip to Antarctica completing his dream of visiting all the continents in the world.

His volunteer activities included administration tasks at Hudson Hospital, the Hudson Lions Club and serving as an treasurer of the ULLR Ski, Bike and Social Club.

A funeral service for Dick will be held on Sunday, May 23, 2021 at the O'Connell Family Funeral Home in Hudson. Visitation will be from 4pm-6pm with service starting at 6pm. Masks are required. His service will be streamed and if you wish to watch his service live click HERE.

Memorials are preferred to the American Heart Association, the Alzheimer's Association or to the International Mesothelioma Program.